Jessica Maratsos
Department: Art History and Fine Arts

Office Hours:

Mondays 12h00 - 13h00, and by appointment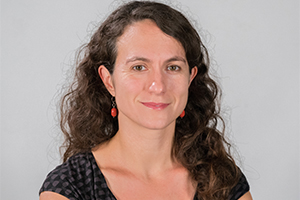 Professor Maratsos received her BA from Amherst College, an MPhil from Cambridge University, and her PhD from Columbia University. Her research focuses on the intersection of religious traditions and pictorial innovation in Renaissance Italy, with particular emphasis on the underlying parallels between theology and Cinquecento art theory. She is also interested in intra-medial exchange, sacre rappresentazioni, and issues raised by replication and copying in relationship to early modern notions of likeness, resemblance, and originality. Current projects include a book on the Florentine painter Jacopo Pontormo. Before joining the faculty at AUP she served as a Core Lecturer at Columbia University, an Adjunct Assistant Professor at Vassar College, and a Visiting Assistant Professor at Harvard University.
Education/Degrees
PhD, Art History, Columbia University
MPhil, Art History, Cambridge University
BA, Fine Arts, Amherst College
Publications
Articles and Book Chapters
"Michelangelo, Vittorial Colonna, and the Afterlife of Intimacy," The Art Bulletin, Forthcoming, December 2017
"Pictorial Theology and the Paragone in Pontormo's Capponi Chapel" Art History, Forthcoming
"Cosimo and Religious Heterodoxy in Tuscany," in Companion to Cosimo I de' Medici (1519-1574), eds. Alessio Assonitis and Henk Van Veen (Leiden: Brill, Forthcoming).
​"The Offense of Romanitas: Tintoretto at the Scuola Grande di San Rocco,"Confraternitas, vol. 21, no. 2 (Fall 2010): 43-51.
Reviews
Review of Frances S. Connelly, The Grotesque in Western Art and Culture: The Image at Play (Cambridge, UK: Cambridge University Press, 2012). Renaissance and Reformation, 37, n.3 (2014): 284-286.
Review of Anne T. Woollet, Yvonne Szafran, and Alan Phenix, Drama and Devotion: Heemskerck's Ecce Homo Altarpiece from Warsaw (Los Angeles: J. Paul Getty Museum/Getty Publications, 2012). Renaissance and Reformation, 38, n.1 (2015): 211-213.