Jelena Pantel
Department: Computer Science, Math and Environmental Science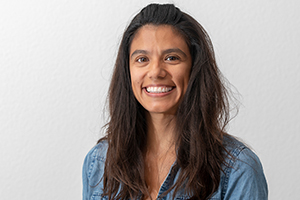 Jelena H. Pantel, Assistant Professor of Environmental Science, arrived at AUP in 2019. She earned her Ph.D. in Ecology, Evolution, and Behavior from the University of Texas at Austin in 2009. She previously held postdoctoral research positions at the University of Illinois at Urbana-Champaign, University of Leuven (Belgium), and Centre National de la Recherche Scientifique (France) and an Assistant Professor position at College of William & Mary (United States).
Professor Pantel's research focuses on ecological and evolutionary responses of aquatic invertebrates to environmental change, as well as on statistical methodology required to analyze large and complex datasets. At AUP, she teaches courses in Environmental Science and in Biostatistics.
Education/Degrees
PhD, Ecology Evolution & Behavior, University of Texas at Austin
BA, Biological Sciences, University of Chicago
Publications
Chabrerie, O., F. Massol, B. Facon, R. Thevenoux, M. Hess, R. Ulmer, J.H. Pantel, J. Braschi, L. Amsellem, S. Baltora-Rosset, A. Tasiemski, F. Grandjean, P. Gibert, M. Chauvat, L. Affre, G. Thiébaut, F. Viard, E. Forey, L. Folcher, T. Boivin, E. Buisson, E., D.M. Richardson, and D. Renault. Biological Invasion Theories: Merging Perspectives from Population, Community and Ecosystem Scales. Preprints 2019, 2019100327.
Govaert, L., J.H. Pantel, and L. De Meester. 2019. Quantifying eco-evolutionary contributions to trait divergence in spatially structured systems. bioRxiv 677526, doi: https://doi.org/10.1101/677526
Holmes, C.J., Z. Rapti, J.H. Pantel, K.L. Schulz, and C.E. Cáceres. Patch centrality affects metapopulation dynamics in small freshwater ponds. In press, Theoretical Ecology.
Dubart, M., Pantel, J. H., Pointier, J.‐P., Jarne, P., and David, P.. 2019. Modeling competition, niche, and coexistence between an invasive and a native species in a two‐species metapopulation. Ecology 100( 6):e02700.
Pantel, J.H., D.A. Bohan, V. Calcagno, P. David, P.-F. Duyck, S. Kamenova, N. Loeuille, G. Mollot, T.N. Romanuk, E. Thébault, P. Tixier, and F. Massol. 2017. 14 Questions for invasion in ecological networks. Advances in Ecological Research 56: 293-340.
Mollot, G., J.H. Pantel, and T.N. Romanuk. 2017. The effects of invasive species on the decline in species richness: a global meta-analysis. Advances in Ecological Research 56: 61-83.
Urban, M. C., G. Bocedi, A.P. Hendry, J.-B. Mihoub, G. Pe'er, A. Singer, J.R. Bridle, L.G. Crozier, L. De Meester, W. Godsoe, A. Gonzalez, J.J. Hellmann, R.D. Holt, A. Huth, K. Johst, C.B. Krug, P.W. Leadley, S.C.F. Palmer, J.H. Pantel, A. Schmitz, P.A. Zollner, and J.M.J. Travis. 2016. Improving the forecast for biodiversity under climate change. Science 353(6304).
Hablützel, P.I. and J.H. Pantel. 2016. Strong spatial turnover in cichlid fish assemblages in the upper río Madera (Amazon basin) despite the absence of hydrological barriers. Hydrobiologia DOI: 10.1007/s10750-016-2853-0
Govaert, L., J.H. Pantel, and L. De Meester. 2016. Eco-evolutionary partitioning metrics: assessing the importance of ecological and evolutionary contributions to population and community change. Ecology Letters 19(8): 839–853.
Holmes, C, J.H. Pantel, K. Schulz, and C. Cáceres. 2016. Initial genetic diversity enhances population establishment and alters genetic structuring of a newly established Daphnia metapopulation. Molecular Ecology 25(14): 3299–3308.
Gianuca, A.T., J.H. Pantel, and L. De Meester. 2016. Disentangling the effect of body size and phylogenetic distances on zooplankton top-down control of algae. Proceedings of the Royal Society B: Biological Sciences 283: 20160487.
Pantel, J.H., C. Duvivier, and L. De Meester. 2015. Rapid local adaptation mediates zooplankton community assembly in experimental mesocosms. Ecology Letters 18(10): 992-1000.
Pantel, J.H., D. Pendleton, A.W. Walters, and L.A. Rogers. 2014. Linking environmental variability to population and community dynamics. p 119-131. In P.F. Kemp [ed.], Eco-DAS IX Symposium Proceedings. ASLO.
De Meester, L. and J.H. Pantel. 2014. Eco-evolutionary dynamics in freshwater systems. Journal of Limnology 73(s1): 193-200.
Pantel, J.H., T.E. Juenger, and M.A. Leibold. 2011. Environmental gradients structure Daphnia pulex × pulicaria clonal distribution. Journal of Evolutionary Biology 24(4): 723-732.
Pantel, J.H., M.A. Leibold, and T.E. Juenger. 2011. Population differentiation in Daphnia alters community assembly in experimental ponds. American Naturalist 177(3): 314-322.
Orrock, J.L., J. H. Grabowski, J. H. Pantel, S. D. Peacor, B. L. Peckarsky, A. Sih, E. E. Werner. 2008. Consumptive and non-consumptive effects of predators on metacommunities of competing prey. Ecology 89(9): 2436-2445.
Urban, M.C., M.A. Leibold, P. Amarasekare, L. De Meester, R. Gomulkiewicz, M.E. Hochberg, C.A. Klausmeier, N. Loeuille, C. de Mazancourt, J. Norberg, J.H. Pantel, S.Y. Strauss, M. Vellend, and M.J. Wade. 2008. The evolutionary ecology of metacommunities. Trends in Ecology and Evolution 23(6): 311-317.
Tang, C. and Pantel, J.H. 2005. Combining morphometric and paleoecological analyses: examining small-scale dynamics in species-level and community-level evolution. Palaeontologia Electronica 8(2): 5A.
Research Areas
Eco-evolutionary dynamics
Rapid evolution
Community ecology
Ecological statistics