Maria Bach
Assistant Professor, Fellow of the Teaching and Learning Center
Department: Economics and Management

Office Hours:

Mondays and Wednesdays 14:00–15:00 By appointment: https://aup.libcal.com/appointments/mariabach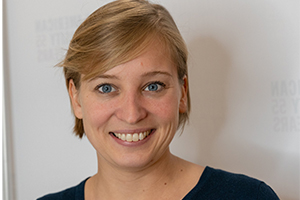 Maria Bach is an historian of economics interested especially in nineteenth century Indian Economics. She completed her PhD in International Political Economy at King's College London. Her thesis analysed how Indian political economists constructed an idea of development at the turn of the nineteenth century. 

At AUP, she teaches courses on economic history, development economics and principles of macroeconomics in the Economics department. She is also co-teaching a First Bridge on the invention of money, debt and tax, which instructs first year students about the history of economics and how money, debt and tax may (or may not) keep our society together. She has previously taught economic history at the London School of Economics, as well as International Political Economy and Principles of Economics at King's College London. 

From 2013 to 2014, she was a consultant at the Organisation for Economic Co-operation and Development (OECD) in Paris working on the New Approaches to Economic Challenges project.
Education/Degrees
PhD, International Political Economy 
King's College London, KCL
Postgraduate Certificate in Higher Education
London School of Economics and Political Science, LSE 

MSc, Development Economics
The School of Oriental and African Studies, SOAS

BA, Honours in International Economics and a Minor in Applied Mathematics
The American University of Paris, AUP
News
Publications
Bach, Maria. forthcoming. A Win-Win Model of Development: How Indian Economics redefined universal development from and at the margins, 1870-1905. Journal of History of Economic Thought.
Bach, Maria 2020. Redefining Universal Development from and at the Margins: Indian Economics' Contribution to Development Discourse, 1870–1905. Erasmus Journal for Philosophy and Economics, 13(1), 139–147.
Maria Bach, Ajit Sinha and Alex M. Thomas (eds), Pluralistic Economics and Its History, Œconomia, 10(2): 351-357.
Bach, Maria and Morgan, Mary S. 2020. Measuring Difference? The United Nations' Shift from Progress to Poverty. History of Political Economy, 52(3): 539–560.
Bach, Maria. 2018. What laws determine progress? An Indian contribution to the idea of progress based on Mahadev Govind Ranade's works, 1870-1901. European Journal for the History of Economic Thought, 25(2): 327-356.
Morgan, Mary S. and Maria Bach. 2018. Measuring Development—from the UN's Perspective. History of Political Economy, 50(1): 193–210.
Other Publications
Conferences & Lectures
Society for the Advancement of Socio-Economics (SASE) Annual Conference, July 2020
History of Economics Society Annual Conference, June 2020
Workshop on Roads to knowledge: travel in the history of economics, June 2020
The French Economics Association (AFSE) Annual Conference, June 2019
European Society for the History of Economic Thought (ESHET) 23rd Annual Conference, May 2019
Organised Workshop entitled On the Spot Accounts: the Indian Economy, 1850-1947, March 2019
Global Knowledge on Divided Societies, Deutscher Historitag, September 2018
Séminaire Réseau en Épistémologie et en Histoire de la Pensée Économique Récente (REHPERE), July 2018
Panel at the Historikertag on The Global Knowledge of Divided Societies. The Measurement of Economic Inequality in Europe and the World since 1945, September 2018
Duke Summer Institute at the centre for History of Political Economy (HOPE), June 2018
European Society for the History of Economic Thought (ESHET) 22nd Annual Conference, June 2018
Guest Lecturer at Unil, Lausanne on the history of Indian Political Economy, Nov. 2017
Festival for New Economic Thinking, Edinburgh, Oct. 2017
Measuring Matters: Histories of Assessing Inequality at CRASSH, Cambridge University, July 2017
Economists in Action: Policy and Practise in the History of Economics Workshop, University of Notre Dame, London Campus, May 2017
European Society for the History of Economic Thought (ESHET) 21st Annual Conference, University of Antwerp, May 2017
Great industrialization debates at critical historical and contemporary junctures, Development Studies Association Annual Conference, Oxford University, Sep. 2016
European Society for the History of Economic Thought (ESHET) Annual Summer School, CNRS centre in Corsica, Sep. 2016
European Society for the History of Economic Thought (ESHET) 20th Annual Conference, Sorbonne Pantheon, Paris, May 2016
Young Scholar's Initiative, Institute for New Economic Thinking (INET), History of Economic Thought Workshop at the European Society of the History of Economic Thought (ESHET) 19th Annual Conference, Roma 3 University, May 2015
New Pathways in the History of Political Economy, University of Cambridge, Jan. 2015
46th Annual Conference on the History of Economic Thought, Westminster University, London, Sep. 2014
Awards, Fellowships and Grants
Curriculum Vitae