Celeste Schenck
Office:

La Tour Maubourg (T) - 1st Floor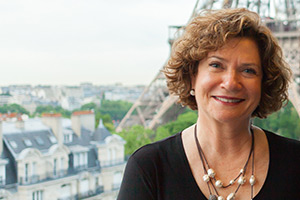 Dr. Celeste M. Schenck assumed office as the twelfth president of The American University of Paris on October 15, 2008. She is the second woman to assume leadership of the University, and the first president to have risen from the University's professorial ranks.
In her 27 years at AUP, Schenck has served as Professor of Comparative Literature, Associate Dean for Curriculum Development, Vice President for Academic Innovation, Vice President for Development and Grant Planning, Vice President of Academic Affairs, Dean of the University, and Provost.
As Chief Academic Officer of AUP, Schenck focused on curriculum development—leading a major review of general education, founding the first MA programs and fostering the ones subsequently developed—and accreditation. She also founded one of the consortia AUP belongs to and has managed AUP's role in the other two. She also attended to the integration and development of technology and teaching at AUP, creating the first Academic Resource Center with all of its attendant activities. In tandem with each project, she raised substantial foundation funding for academic programs, technology and infrastructure. As President, she has been responsible for creating the University's professional leadership team, developing a "residential life" program for incoming students, leading two strategic planning processes, developing innovative research centers, launching a five-year campus redevelopment plan which is nearing its completion with the purchase of a final building adjacent to the Combes building, and launching AUP's first capital campaign for 26M euros, AUP Ascending, which is currently moving into its public phase.
Prior to coming to France, Schenck was an Associate Professor with tenure at Barnard College, where she held the Ann Whitney Olin Junior Chair for excellence in scholarship and teaching. While at Barnard, Schenck received several prestigious awards for her work in feminist literary studies and founded two important series, the Barnard New Women Poets Series, an annual poetry prize with public readings, and Reading Women Writing, an imprimatur of Cornell University Press in international feminist criticism. She is the author of four books, two on the literary subjects of the pastoral and women's autobiography, and two with colleague Susan Perry on women, culture and development practices. She currently writes on issues of international education, the global liberal arts, and leadership.
Schenck holds a bachelor's degree in English, summa cum laude, from Princeton University, and a PhD from Brown University in Comparative Literature.