Linda Martz
Associate Professor, Foundation Program Director
Department: Comparative Literature and English
Complementary Department(s): History

Office Hours:

Thursdays at 16h55 - 18h15, and by appointment - I have two offices, one in the Advising Center in PL-12 and the other in G-109; my office hours will be in PL, but check the location for other appointments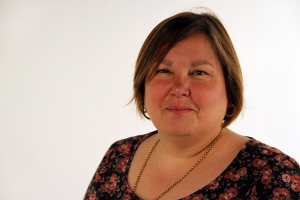 Professor Martz's research interests include women's history and gender studies, particularly women's access to institutions and women's activism, as well as the interface between religion and public life. She researches and publishes on nineteenth and early twentieth century British movements where these interfaces were significant, such as the Salvation Army and the militant suffrage movement, as well as on aspects of California's regional religious culture during the same period, with a special interest in Pentecostalism and early Fundamentalism. 
Education/Degrees
Doctorate, University of Paris VII
DEA, University of Paris VII
Maîtrise, University of Paris VII
Certificate Year in Teaching English as a Second Language/Applied Linguistics, UCLA
BA, Scripps College
Publications
"Mary Neal and Emmeline Pethick: from Protestant sisterhood to public activism." Pending publication in Women's History Review.
"Moved to Minister: Christabel Pankhurst and Aimee Semple MacPherson in Los Angeles.", Women on the Move: refugees, migration and exile. Ed.  Fiona Reid and Katherine Holden. Newcastle: Cambridge Scholars Publishing, 2010. 76-92.
"Frederick Pethick-Lawrence(1871-1961) : L'homme parmi les suffragettes." Ces homes qui épousèrent la cause des femmes. Ed. Martine Monacelli and Michel Prum. Paris : Les Editions de l'Atelier, 2010.163-176.
60 étapes-clé de la civilisation anglo-saxonne (all-French edition). C. Loubinac, C. Loubignac, F. Fichaux, A. Higgie, and L. Martz. Collection Optimum, F. Fichaux editor. Paris: Editions Ellipses, 2008.
Notions of Identity in Detective Fiction. Co-edited with A. Higgie. Newcastle: Cambridge Scholars Publishing, November 2007. Includes "Suffragette Fictions: the re-construction of militant identity in Gillian Linscott's Nell Bray novels." 153-163.
60 fiches de civilisation britannique et américaine (bilingual edition). With A. Higgie et C. Loubinac. (Paris: Ellipses Edition) 2006. Second edition 2012.
Comment préparer le TOEFL en 10 jours, with R. Rast and F. Fichaux, Collection Optimum, F. Fichaux editor (Paris: Ellipses Edition), 2006.
"An AIDS-Era assessment of Christabel Pankhurst's The Great Scourge and How To End It." Women's History Review 14.3 /4, November 2005, 435-447.
Affiliations
Martz is a member and associate board member of the West of England and South Wales region of the Women's History Network, and a member of the CRPA (Culture et Religions dans les Pays Anglophones), which is currently housed by the Université d'Angers.