Sharon Weill
Department: History and Politics
Graduate Program(s): International Affairs, International Affairs, Conflict Resolution and Civil Society Development, Diplomacy and International Law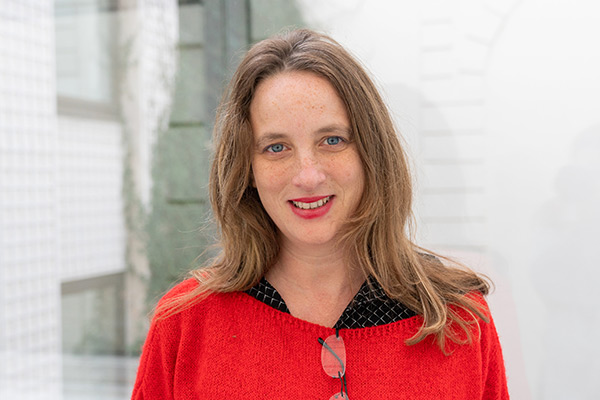 Professor Sharon Weill joined The American University of Paris in 2018. She also lectures and is affiliated as associate researcher at SciencesPo (PSIA/CERI). She is a member of the French National Consultative Committee for Human Rights (CNCDH). Recently, she was nominated by the United Nations High Commissioner for Refugees to serve as a judge in the French Asylum Courts (CNDA).
Her particular field of interest is the relationship between international and domestic law, the politics of international law, law and conflicts and the role of national courts - topics on which she has published numerous articles and book chapters. Her research method combines legal doctrine with socio-political approaches including trial ethnography. Since 2017, she has been doing empirical research within the French courts (terrorism trials) as a part of multidisciplinary groups for the Ministry of Justice. Her post-doctoral research on the Guantanamo Bay military commissions was conducted at the Center for the Study of Law and Society, University of California, Berkeley (2015-2016). Prior to that, she participated in the European research project "Security in Transition" led by Professor Mary Kaldor at LSE and was a research fellow at the Geneva Academy of International Humanitarian and Human rights law for several years.
She is the author of the book The Role of National Courts in Applying International Humanitarian Law (Oxford University Press, 2014) and co-editor of the book Prosecuting the President - The Trial of Hissène Habré (Oxford University Press, 2020).
Education/Degrees
Sharon Weill received her PhD in international law from the University of Geneva in 2012.
News
Professor Weill was interviewed for the Financial Times about the Bataclan trial and the testimony of former French President, Francois Hollande. "A 'truth commission': Paris terror trial grips France", interviewed by Leila Abboud, Financial Times, Nov 12 2021

CULTURES MONDE par Florian Delorme, TABLE RONDE D'ACTUALITÉ INTERNATIONALE  : Procès du 11-Septembre : fin de partie pour l'état d'exception
"Paris terror victims to make voices heard at landmark French trial", Financial Times,
"In a custom-built courtroom, the trial begins for the November 2015 Paris attacks" , Washington Post, 8 Sept 2021
Interviewed for France Culture at the end of the trial of Charlie Hebdo, 16 dec 2020 
Interviewed for French Daily La Croix at the beginning of the Charlie Hebdo trial, by Pierre Bienvault, 2 September 2020 :"Procès Charlie Hebdo - Hyper Cacher : « Ne pas faire peser sur les accusés le poids des attentes de la société"
Interviewed for French Daily Le Monde, Section 'Ideas', by Jean-Baptiste Jacquin, 10 March 2020 
Interview for 'Law and Justice' Website (GIP - Ministry of Justice/ French National Center for Scientific research-CNRS), March 2020 
"How Do We Judge Islamist Terrorists", article by Pierre Januel, Dalloz publication, 5 February 2020.
Interviewed for the New York Times: "Paris Trial Shows Faltering Evolution of a Jihadist Cell", by Adam Nossiter, 13 April 2018.
Publications
Books

Peer Reviewed Articles

Book Chapters

Reports
Conferences & Lectures
2020
I organized the launch of our research report in "Jihadists on Trial: an Ethnographic Study at the French Assize Court (2017-2019)", an interdisciplinary colloquium with the participation of judicial actors including the French Counter-terrorism Prosecutor, President of the Assizes Criminal Court, a counter-terrorism investigative judge and a defense lawyer (CERI, Sciences po, March, 2020). The program is available at https://www.sciencespo.fr/agenda/ceri/fr?event=1953
Terror in Court: Transnational Jihadism and the Fabrication of its Judges. Talk by Sharon Weill at the Center for Socio-Legal Studies, Oxford University, UK (30 January 2020). https://www.law.ox.ac.uk/events/terror-court-transnational-jihadism-and-fabrication-its-judges-ethnography-french-criminal
2019
 "Is International Criminal Justice "Model" Justice?" The American University of Paris, October 17, 2019 | https://www.youtube.com/watch?v=ButXTSX-3Fw&feature=youtu.be
Law and Society Annual Conference, Washington DC, June 2019: organizing a panel "Terror, Rights, and Belonging: Dignity before the Law and Courts" and presenting a paper "Terror in Courts: The Radicalization of French Actors and Law".
Cardiff Centre of Law and Society Annual Conference "Wars on law, wars through law? Reflections on the past and the present of the War on terror," invited to present a paper on French trials of foreign fighters, Cardiff University, UK, May 2019.
Trial Watch Conference, The Clooney Foundation, Colombia University, NYC, April 2019. participation in a closed workshop with George and Amal Clooney who launched their Trial Watch project.
2018
International Workshop "Countering Extremism: Now What?", S. Rajaratnam School of International Studies, Singapore September 2018. Particiapting in the panel on "Extremists in Detention".
International colloquium "Intelligence, Transnational Activities and National Security in France and Europe: Transnationalisation, Oversight th Role of Courts", CERI, Sciences Po, September 2018. Title of presentation: "Security Services Representation in Trials."
"French Counterterrorism Practices: Criminal and Administrative Avenues- A talk by Sharon Weill," PILAC, Harvard Law School (Boston, April 2018).
"The Hissene Habré Trial, National Courts and the Future of International Criminal Justice," – presentation in the conference entitled The Trial of Hissene Habré, a turning point in African and International justice? (Dakar, February 2018).
"ICC Preliminary Examination and the Situation of Palestine," paper presented in the international conference Quality Control in Preliminary Examination, organized by the Center for International Law Research and Policy (International Court of Justice, The Hague, June 2017). 
2017-2016 (selected conferences)
"The Military Trials in Guantanamo Bay," paper presented in the conference The Act of Judging Facing the Turmoil of History (The French National School of Magistrates - ENM, November 2017).
"Generating Respect for IH: an African perspective," invited speaker in the round table organized at the bi-annual conference of the International Law Association (Johannesburg, August 2016).
"Transnational lawyering: The Guantanamo trials and beyond", paper presented in the international workshop: The emerging transnational criminal law at iCourt - The Danish National Research Foundation's Centre of Excellence for International Courts (University of Copenhagen, May 2016).
"Should and Will Guantanamo Close?", public seminar with the participation of academics and high-level officials (co-organizer and speaker), University of California (Berkeley, April 2016)
"Stopping War Crimes Before They Happen: Preventing Violations of the Law in Armed Conflict," roundtable and launch of the International Review of the Red Cross on generating respect for IHL (organizer and speaker), University of California (Berkeley, March 2016).
"The Role of Domestic Courts during Armed Conflicts: Generating Respect for International Humanitarian law," paper presentation at 10th anniversary conference of the European Society for International law (Vienna, October 2014).
Affiliations
CERI, Sciences Po: associated researcher
The Geneva Center for Humanitarian Action (CERAH)
Law and Society Association (LSA)
International Studies Association (ISA)
European society of International law (ESIL)
International Law Association (ILA)
Research Areas
Socio legal approaches for the study of trials and courts
Military and criminal justice,counter terrorism trials, the role of lawyers.
The relationship between international and domestic law
The politics of international law.
International law applicable to armed conflicts, military occupation; targeted killings, the war on terror.
Human rights, UN protection mechanisms; international criminal law and courts.
Assylum courts