Jula Wildberger
Department: Comparative Literature and English
Complementary Department(s): History and Politics

Office Hours:

Take an appointment: https://aup.libcal.com/appointments/julawildberger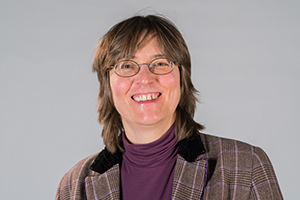 Jula Wildberger teaches the languages and literatures of classical antiquity (Greek and Latin) and courses in philosophy. Most of her current research concerns ancient Stoicism, its sources, its ancient reception, and its impact on modern thought. She applies her training in classical philology to the intersections between pragmatic, philosophical and literary questions, aiming to provide scholarship that contributes to her academic discipline but may also speak to any intellectual and moral agent in the modern world.
Her interest in various aspects of Roman masculinities began with her PhD project, a book on Ovid's Art of Love in which she analyzes the workings of this didactic poem as a transformation of plaintive, always failing Latin love elegy into well-controlled erotic technology.
After studying and teaching in Germany (Frankfurt am Main; Würzburg; Bonn) and two years in the UK, at University College London and the University of Glasgow, she now enjoys the opportunities of AUP to work with inspiring colleagues from many disciplines and serve her students in an academic environment that fosters innovative, student-centered teaching of a high quality.
Passing by her classroom, you may sometimes hear her recite some Latin poem in the pronuntiatus restitutus, and you are welcome to join in.
 
Education/Degrees
Certificate in Learning and Teaching in Higher Education, University College London (2006) and Fellow of the Higher Education Academy (2007)
Habilitation, Johann Wolfgang Goethe-Universität, Frankfurt am Main (2004)
Dr. phil., Julius-Maximilians Universität, Würzburg (1997)
Magistra Artium, Johann Wolfgang Goethe-Universität, Frankfurt am Main (1984)
Publications
Books
Selected articles and book chapters
"Cosmic Beauty in Stoicism: A Foundation for an Environmental Ethic as Love of the Other?" Ecology and Theology in the Ancient World: Cross-Disciplinary Perspectives, ed. Ailsa Hunt and Hilary Marlow. London et al.: Bloomsbury Academic Publishing, 2019. 63-74
"Care of the Self and Social Bonding in Seneca: Recruiting Readers for a Global Network of Progressor Friends." Vita Latina 197-198, February 2018
"Amicitia and Eros: Seneca's Adaptation of a Stoic Concept of Friendship for Roman Men in Progress." Philosophie in Rom – Römische Philosophie?: Kultur-, literar-, und philosophiegeschichtliche Perspektiven. Ed. Gernot Michael Müller and Fosca M. Zini, eds. Berlin and Boston: De Gruyter, 2018: 387-425
"Antinomien des alternden Selbst im Stoizismus." Alter und Selbstbeschränkung, ed. Angelika Messner. Wien, Köln, Weimar: Böhlau, 2017. 187-200
"Hermann Fränkel: Ein Philologe zwischen zwei Welten." De Christine de Pizan à Hans Robert Jauss: Etudes offertes à Earl Jeffrey Richards par ses collègues et amis à l'occasion de son soixante-cinquième anniversaire (Medievales 63), ed. Danielle Buschinger and Roy Rosenstein. Amiens: Presses du Centre d'Études Médiévales de Picardie, 2017. 476-491.
"Types of Freedom and Submission in Tacitus' Agricola." Festschrift Carlo Santini, ed. Aldo Setaioli. Trieste: EUT, 2016. 715-726
"Mucius Scaevola and the Essence of Manly Patientia." Antiquorum Philosophia 9 (2015): 27-39 (appeared 2016)
Together with Ermanno Malaspina: "Seneca." Oxford Bibliographies in Philosophy. Ed. Duncan Pritchard et al. Oxford University Press, 29 May 2015.
"Simus inter exempla! Formen und Funktionen beispielhafter Weltflucht in der frühen Kaiserzeit." Der Mensch zwischen Weltflucht und Weltverantwortung: Lebensmodelle der paganen und der jüdisch-christlichen Antike. Ed. Heinz-Günther Nesselrath and Meike Rühl. Tübingen: Mohr Siebeck, 2014. 85-109
"The Epicurus Trope and the Construction of a 'Letter Writer' in Senecas Epistulae Morales." Seneca Philosophus. Ed. Marcia L. Colish and Jula Wildberger. Berlin; New York: De Gruyter, 2014. 431-465
"Bodies, Predicates, and Fated Truths: Ontological Distinctions and the Terminology of Causation in Defenses of Stoic Determinism by Chrysippus and Seneca." Fate, Chance, Fortune in Ancient Thought. Ed. Francesca Guadalupe Masi and Stefano Maso. Amsterdam: Hakkert (Lexis Ancient Philosophy), 2013. 103-123. Review.
"Stertinian Rhetoric: Pre-Imperial Stoic Theory and Practice of Public Discourse." Continuity and Change: Oratory in the Hellenistic Period. Ed. Kathryn Tempest and Christos Kremmydas. Oxford, New York: Oxford University Press, 2013. 249-276
"Delimiting a Self by God in Epictetus." Religious Dimensions of the Self in the Second Century CE. Ed. Jörg Rüpke and Greg Woolf. Tübingen: Mohr Siebeck, 2013 (Studien und Texte zu Antike und Christentum). 23-45
"Paraenesis and argument in Arrian's Dissertations of Epictetus." Argument und literarische Form in antiker Philosophie. Ed. Michael Erler. Berlin; New York: De Gruyter 2013 (Beiträge zur Altertumswissenschaft). 411-434
"Copia-e-incolla e la struttura del 'Compendio di etica stoica' attribuito ad Ario Didimo." Vestigia Notitiai: Miscellanea in onore di Michelangelo Giusta. Eds. Giuseppina Magnaldi and Edoardo Bona. Alessandria: Edizioni dell'Orso, 2012. 167-177
Together with Jonathan Shimony: "Teaching Classics through Art: Visual Arts as a Tool for Enhancing Text Comprehension and Appreciation." The Iconic Turn in Education. Eds. András Benedek and Kristóf Nyíri. Frankfurt am Main et al.: Peter Lang, 2012. 25-37
"Die komplexe Anlage von Vorgespräch und Rahmenhandlung und andere literarisch-formale Aspekte des Symposion (172a1-178a5)." Platon, Symposion. Christoph Horn, ed. Berlin: Akademie Verlag (Reihe: Klassiker Auslegen), 2012. 17-34
"Praebebam enim me facilem opinionibus magnorum uirorum: The Reception of Plato in Seneca, Epistulae Morales 102." Aristotle and the Stoics Reading Plato. Ed. Verity Harte, Mary M. McCabe, Robert A. Sharples and Ann Sheppard. London: Institute of Classical Studies (BICS Supplement 107), 2010. 205-232
"Male Youths as Objects of Desire in Latin Literature: Some Antinomies in the Priapic Model of Roman Sexuality." Eros und Aphrodite: Von der Macht der Erotik und der Erotik der Macht. Ed. Barbara Feichtinger and Gottfried Kreuz. Trier: Wissen­schaft­licher Verlag Trier (IPHIS 4), 2010. 227-253
"Partikel und Erinnerungsspuren: Der Mensch Epikurs." Philosophische Anthro­po­logie in der Antike. Ed. Ludger Jansen and Christoph Jedan. Frankfurt am Main: Ontos, 2010. 205-244
"The Stoics on Time, Eternity and the Actions of God." Zeit und Ewigkeit als Raum gött­lichen Handelns: Religions­ge­schichtliche, theologische und philosophische Perspektiven. Ed. Reinhard Kratz and Hermann Spieckermann. Berlin and New York: De Gruyter, 2009. 123-52
"Iam nocte Titan dubius expulsa redit: Paradoxon, Spaltung und Integration in Senecas Oedipus." Die Dichter und die Sterne: Beiträge zur lateinischen und griechischen Literatur für Ludwig Braun. Ed. Ulrich Schlegelmilch and Tanja Thanner. Würzburg: Kom­missions­verlag Ferdinand Schöningh 2008. 101-123
"Beast or God? – The Intermediate Status of Humans and the Physical Basis of the Stoic Scala Naturae." Mensch und Tier in der Antike. Ed. Annetta Alexandridis, Lorenz Winkler-Horacek and Markus Wild. Wiesbaden: Reichert-Verlag, 2008. 47-70
"Ovids Remedia amoris aus affektpsychologischer Sicht." Ovid: Werk – Kultur – Wirkung. Ed. Markus Janka, Ulrich Schmitzer and Helmut Seng. Darmstadt: Wissen­schaftliche Buchgesellschaft 2007. 85-112
"Seneca and the Stoic Theory of Cognition – Some Preliminary Remarks." Seeing Seneca Whole: Perspectives on Philosophy, Poetry, and Politics. Ed. Katharina Volk and Gareth Williams. Leiden: Brill 2006. 75-102
"Quanta sub nocte iaceret nostra dies (Lucan, BC 9,13f.): Stoizismen als Mittel der Verfrem­dung bei Lucan." Lukan im 21. Jah­rhundert. Lucan in the 21st Century. Lucano nei primi del XXI secolo. Ed. Christine Walde. München and Leipzig: Saur 2005. 56-88
"'Der eine der beiden Vögel …': ein Konjekturvorschlag zu Lukian, Symposion 43." Hermes 133 (2005): 383-387
"Die Überhöhung der Geliebten bei Tibull, Properz und Ovid." Gymnasium 105 (1998): 39-64
"Ovid, A. A. 3,343 und die zweite Auflage der Amores: Eine neue Konjektur." Würzburger Jahrbücher für die Altertumswissenschaft 22 (1998): 177-86
Forthcoming
"Cosmic beauty in Stoicism: a foundation for an environmental ethic as love of the other?" Greening the Gods: Ecology and Theology in the Ancient World, ed. Ailsa Hunt and Hilary Marlow. Bloomsbury Academic Publishing
"La raison et la colère: la refutation de la metriopathie dans le De ira de Sénèque 1.5-21." Collection of articles on Seneca's De ira, edited by Valéry Laurand, Ermanno Malaspina and François Prost, de Gruyter
"Seneca and the Doxography of Ethics." Intertextuality in Seneca's Philosophical Works, edited by Myrto Garani, Sophia Papaioannou, and Andreas Michalopoulos
"Cleanthes on the Function of Poetry in Seneca, Epistulae morales 108 (SVF 1.487) and Philodemus, On Music 4 (SVF 1.486). The Philosophy of Cleanthes," ed. George Karamanolis
"Variationen der Wut in Senecas Tragödien: Hercules furens und Thyestes." In a collection of articles on Senecan drama, edited by Christoph Kugelmeier, forthcoming with Alma Mater Verlag: Saarbrücken.
"Hermann Fränkel: A Scholar between Two Worlds." Le Regard d'Exilé. Ed. François Prost. Paris: Éditions Classiques Garnier
Conferences & Lectures
"Stoic Self-Knowledge and Cosmopolitanism: Imperial Stoicism." Workshop: Self-Knowledge and Cosmopolitanism: Ancient Stoic Perspectives. Department of Philosophy and Religious Studies, Utrecht University; Utrecht Centre for Global Challenges, November 2017
"Seneca and the Doxography of Ethics." Workshop: Intertextuality in Seneca's Philosophical Writing, University of Athens, May 2017
"Senecas Sorge um das Selbst: Politik mit anderen Mitteln?" Invited lecture. University of Würzburg, November 2015; University of Osnabrück, January 2015
"Doxographien der stoischen Ethik und ihre Rezeption in Rom," II. Workshop der AG "Philosophie in Rom" (Gesellschaft für Antike Philosophie): "Antike Philosophie in Rom – Paradigmen einer interkulturellen Aneignung," Universität Würzburg, July 2015
"Die Visualisierung von Ovids Mythen: Was lernen wir daraus?" International conference "Mythenbilder in Kunst und Literatur: Ovids Werk und sein kultureller Kontext", Institut für Klassische Archäologie der Ludwig-Maxilians-Universität München, July 2015
"Cleanthes' Poetry and Poetics." International workshop on Cleanthes. Institut für Philosophie, Universität Wien, May 2015
"'To understand each phenomenon as it intended itself': Hermann Fraenkel as a Historian of Mentalities." International conference "Formalism / Idealism: Comparative Literary History, 1860-1960." The University of Chicago Center in Paris, April 2015
"Seneca über unnatürliche, exzessive Wut und die stoische Theorie der Emotionen."  Universität Düsseldorf, Institut für Philosophy, April 2014
"Beauty and Sociability in Stoic Accounts of Providence and Human Nature: A Foundation for an Environmental Ethic as Love of the Other?" International Conference "Greening the Gods: Ecology and Theology in the Ancient World." St Edmund's College, Cambridge (Faculty of Classics; The Faraday Institute for Science and Religion), March 2014
"Politics of friendship in Seneca's Epistulae morales." American Philological Association: Annual Meeting. Chicago, January 2014
"The Inner and the Outer Daimon: Stoic Eudaimonia as a Relation to God." International conference Forms of Religious Individualisation: Concepts and Processes. Max-Weber-Kolleg, University of Erfurt, May 2013
"Lautliche Ausdrucksmittel zur Darstellung von Emotion und Charakter in Senecas Tragödien." Conference Seneca und das Drama der Antike, University of Saarbrücken, May 2013
"Questions of Value and Agency in Environmental Ethics: A Stoic Response." Old World and New World Perspectives on Environmental Philosophy. 8th Annual Meeting of the International Society for Environmental Ethics. Nijmegen, The Netherlands. June 2011
"Cic. Tusc. 4, 11-33, Ar. Did. apud Stob. 2, 7, 10, p. 88-93 Wachsmuth ed un perduto manuale Stoico sulle passioni." Giornata di Studi, Dipartimento di Filologia, Linguistica e Tradizione Classica "Augusto Rostagni," Università dei studi di Torino. June 2011
"La maîtrise de l''orexis chez Épictète." Cycle de conférences Léon Robin 2010 - 2011: Le stoïcisme. Centre Léon Robin de recherches sur la pensée antique. CNRS- Paris IV Sorbonne-ENS Ulm. April 2011
"Orexis bei Epiktet und anderen Stoikern: auf den Spuren von Chrysipps Therapeutikos." GANPH-Arbeitskreis Praktische Philosophie. Workshop: Hellenismus und Kaiserzeit. Göttingen, October 2010
"Apostrophen an die Allgemeinheit Senecas Briefen." Kleine Mommsentagung: Privatheit und Öffentlichkeit in antiken Gesellschaften. Erfurt, October 2010
Three lectures: (1) "De initio libelli, quem Tacitus de Agricola scripsit;" (2) "De Q. Mucio Scaevola apud Livium et apud alios Latinos scriptores;" (3) "Exempla aut praecepta? Sen. Epist. mor. 6." MONVMENTA VIAEQVE. In honorem et memoriam Iohannis Ørberg. Rome, July 2010
"Abgeben, Enthalten und der leitende Seelenteil Gottes: Stoische Beweise der Rationalität des Kosmos bei Sextus Empiricus, Adversus Mathematicos 9, 101-3." Kolleg-Forschergruppe  "Religious Individualization in Historical Perspective", Max-Weber-Kolleg, University of Erfurt, June 2010
"Die Auseinandersetzung mit Epikur im Gedankengang von Senecas Epistulae morales." Didagmata: Fachtagung für Lehrer der Alten Sprachen. Universität Erlangen-Nürnberg, Erlangen, February 2010
"Horace's First Satire: Job Interview of a Poet?" Invited lecture and discussion at the University of Heidelberg, Excellence Cluster "Asia and Europe in a Global Context: Shifting Asymmetries in Cultural Flows." Research Project B1 "Asian Satire at the University of Heidelberg", August 2009 -- "Horaz, Satire 1,1: Debüt eines Dichters." Inaugural lecture. Frankfurt am Main, December 2004; invited lecture. Universität Göttingen, November 2005
"Stoische Begriffe von Identität und Gleichheit." Kolloquium der Gesellschaft für Antike Philosophie. Frankfurt am Main, January 2009; Institut für Philosophie der Universität Leipzig, January 2009
"The Emperor as a Moral Person in the Context of Friendship: The Example of Nero." Conference Identity, Representation And The Principate AD14–68. St Andrews. June 2008
"Showing the Invisible: How To Represent the Inner Man." The American University of Paris, May 2008. German version: "Der innere Kyniker – ein Dilemma" presented at Universität Münster. Kolloquium der Arbeitsgruppe "Neues Testament und Antike Philosophie" der Gesellschaft für antike Philosophie (GANPH), May 2008
"Innovative Assessment: Beyond the Essay." Panel of the Classics in the Subject Centre of the Higher Education Academy at the Classical Association Annual Conference 2008. University of Liverpool, March 2008
"Über den Versuch, Seneca zu übersetzen." Pontes V: Übersetzung als Vermittlerin antiker Literatur. Universität Innsbruck, September 2007
"Invective, Bonding, and Exclusion in Forensic Oratory and Diatribe." Conference Praise and blame in Roman oratory. St Andrews, November 2006
"Was geschieht in Catulls Carmen 51?" Petronian Society, München, July 2006
"Oedipus, Fate and Odysseus: Teddie Wiesengrund and Theodor W. Adorno on Origins of the Autonomous Subject." Together with Horst Stemmler. Twentieth-Century Receptions of Greece and Rome. University College London. Department of Greek and Latin, April 2006
"Unum bonum quod honestum – Was bedeutet das eigentlich?" DAV-Kongress. München, April 2006
"Falls Sie schon immer einmal wissen wollten, was ein symbama ist." 37. Symposion für Klassische Philologie. Mainz, January 2005
"Warum der stoische Weise langsam geht." Dies Academicus. Universität Bonn, December 2004
"Stoa für Hirnforscher." Max Planck Institut für Hirnforschung. Frankfurt am Main, Oktober 2004
"Seneca et nos uel: Somnium Ferae." Studium Generale. Universität Mainz,  November 2001
"Seneca philosophus quid de libertate senserit." 26. Tagung der Mommsen-Gesellschaft. Göttingen, June 2001
"Rhythmus und Klang in Senecas Epistulae morales." 30. Symposion für Klassische Philologie. Saarbrücken, January 1998
For a complete list, see the Curriculum Vitae, below.
Affiliations
Fellow of the Higher Education Academy
Membership in various associations of classicists, such as the American Philological Association
Research Areas
Stoicism and Hellenistic philosophy in general; Seneca philosophus; sources of Stoic ethics and theory of the emotions
Philosophy in literary texts; literary representation of philosophy; "Diatribe"
Latin love poetry; Roman masculinities
Latin prosody (pronuntiatus restitutus); metrics; prose-rhythm
Curriculum Vitae