Albert Cath
Assistant Professor, Program Director, MSc in International Management
Department: Economics and Management
Graduate Program(s): International Management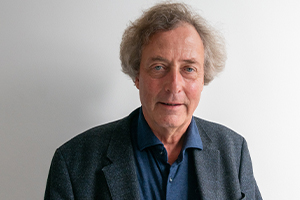 Albert Cath is Assistant Professor at The American University of Paris and has been active for more than 30 years as a self-employed organizational researcher and advisor. His primarily fields of activity encompass(ed) organization that operate in the following domains: Water Management, Traffic and Transport, Climate Change and Sustainability Business, Healthcare, the Cultural Sector, Industry (R & D) and Knowledge-based Institutes (especially boundary organization between science and policy). He teaches courses in management and organizational behavior, international business, leadership, strategy, entrepreneurship, management of complexity and global sustainability management (Climate Change) in both the graduate and undergraduate programs in the Department of Economics and Management.

His teaching, research, and consulting practice involves the understanding of complex thinking and coping with complex issues (social complexity theory, critical management studies). The inherent complexity of an issue is, for him, a starting point in the problem-solving, instead of reducing the issue, as often happens to top-down blueprints. This starting point has at least three implications in the design, reflexivity and the (re)search for problem-solving directions: introducing a plurality of perspectives, co-framing through stakeholder's participation and stimulating 'self-eco[re-]organization', as an expression of 'bottom-up' processes at the crossroads between society, organization, the individual and knowledge. He also teaches part-time at iArts in Maastricht and supervises research master thesis at NSO-CNA Leadership Academy in Amsterdam. Furthermore, he has designed and facilitated a myriad of workshops for the public and the private sector. 
Education/Degrees
Albert Cath studied Medicine (Bachelor) at the University of Amsterdam and Organisational studies (Master of Science) at the Erasmus University Rotterdam. Furthermore, he obtained the Ph.D. diploma at the University of Humanistic Studies in 2018.
Publications
Author of 'Solace in Complexity' (2018). Doctoral Thesis.
Co-author of: Jansen, H. & Letiche, H. (2017). Post Formalism, Pedagogy Lives: As inspired by Joe L. Kincheloe. New York: Peter Lang Publishing. 
Author of the publication of the Masterclass Integral Underground Water management (process and content) published by the Province of Brabant and the department for Infrastructure and Environment (2015). 
Co-author of the book Morrapark Fertelsum. The Narrative of Morrapark; made-to-measure or ready-to-wear municipal water management? Research Published by Wetterskip Fryslân/Water Board Fryslân (2015).
Co-author of the publication: 'Simulacra in the Dutch River Delta; an ethnographic study on water safety' (2014). Published by the Ministry of Infrastructure and Environment.
Co-author of the book 'The loose ends of participation in Health Care' (2013). Research Published by ZonMW. 
Petersen, A.C. & Cath, A.G. & Hage, M. & Kunseler, E.M. & Van der Sluijs, J.P. (2011). Post-Normal Science in Practice at the Netherlands Environmental Assessment Agency. Science, Technology, & Human Values, 36: 362-388. 
Co-author of the book 'A Leap in the Deep End; the interest of tacit knowledge in water management (2011). Published by Stowa. 
Co-author of the book 'Combine what is at hand; sustainability through connecting societal functions'(2010). Published by Eburon Publishers.
Co-author of the book: 'The Matrix, an interdisciplinary quest for integral action perspectives' (2010). Published by the Department of Infrastructure and Environment. 
Co-author of the book 'Integral Change Management' (1992). Published by Van Gorcum Publishers. This book is a systematic approach to the management of strategic re-orientation, restructuring and influencing organizational culture.