Anne-Marie Picard
Department: French Studies and Modern Languages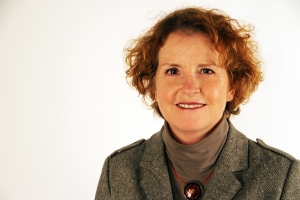 Professor Picard arrived at AUP in the Fall of 2003 after obtaining her PhD from University of Toronto and teaching at Western University (Canada) for 14 years.

Her main research area is XXth and XXIth Century French writers (Colette, Sartre, Duras, Cixous, Hébert, Redonnet, Delaume, Houellebecq, Angot...). She approaches the mysteries of literature with mostly linguistic and psychoanalytical tools.

She has also studied the question of non-reading children at Sainte-Anne's Hospital in Paris. Her observation and internships there have allowed her to investigate the complexities of illiteracy and suggest that there are ideological commonalities between children learning how to read and writers endeavouring to write fiction.
Her French book on her findings (LIRE DELIRE. PSYCHANALYSE DE LA LECTURE, Erès, 2010) was published in English by Routledge: FROM ILLITERACY TO LITERATURE; PSYCHOANALYSIS 1 READING (2017).
Education/Degrees
PhD in French Studies (University of Toronto).
M.A.T. (Master of Arts in Teaching French as a Second Language) 5dalhousie University)
Licence ès Lettres (Etudes anglaises) (Université de Rouen)
News
Professor Picard will give a paper at the "10e rendez-vous de la Critique" (University of Porto, Portugal) in October. https://sigarra.up.pt/flup/en/noticias_geral.ver_noticia?p_nr=80643
Publications
Books
From Illiteracy to Literature: Psychoanalysis and Reading, Trans. K. Valendinova, Routledge, 2017.
Lire Délire. Psychanalyse de la lecture. Erès, 2010
Editing
Marc-Léopold Lévy, Eclats de jouissance : Psychanalyse et Ethique. Erès Editeurs, Collection « Point Hors ligne », March 2018. [textes réunis et annotés par A.-M. Picard]. 264 p.
Guest Editor, « TranslatingTrump / Traduire Trump, » Contemporary French & Francophone Studies: SITES. 21. 5 (December 2017).https://sites.uconn.edu/volume-2-issue-3-2/
Guest editor. « Entre Symptôme et Pharmakon: Penser aujourd'hui en France, » L'Esprit créateur. Johns Hopkins U. P., Fall Issue, 2010
Critique de la jouissance comme Une : Leçons de psychanalyse. By Marc-Léopold Lévy, Paris, Editions Erès, 2003
Guest Editor. L'Imaginaire de la théorie. TEXTE.17/18 (Université de Toronto Press, 1996) : 345p
Guest Editor. Mises en scènes du regard. Dalhousie French Studies. 31 (Summer 1995): 125p
Articles, Interviews:
Le Mot juste: An interview with Howard Jacobson by Anne-Marie Picard, Contemporary French and Francophone Studies, SITES. 21:5, 456-462, DOI: 10.1080/17409292.2017.1437700
A.-M Picard, Roger Célestin, "Editors' Introduction", « TranslatingTrump / Traduire Trump, » Contemporary French & Francophone Studies: SITES. Vol. 21, Issue 5 (December 2017): 443-455.

Articles in refereed books or conference proceedings
"The Other Myself." In Bridging Cultures: Intercultural Mediation in Literature, Linguistics and the Arts, C. Hogan, N. Rentel, S. Schwerter, eds, Stuttgart : ibidem-Verlag, 2012
"Jouons-le à l'anglo-saxonne. Have I gone native ? Translations transatlantiques dans 'l'affaire DSK'" in Les défis et enjeux de la médiation interculturelle. Nadine Rentel, Stephanie Schwerter, Eds. Rodopi, 2012
"Le corps du lecteur : se laisser lire." in Le Corps, porte-parole de l'enfant et de l'adolescent. Marika Bounès Bergès, Jean-François Forget, Eds.. érès Editions, collection: "Psychanalyse de l'enfant", sept. 2011, 161-178: www.cairn.info
"Hollowing out a space for the subject to-be: Robinson Crusoe's textual family romance". European Science Foundation (ESF), standing committee for the Humanities conference: "First Person Writing, Four Way Reading"
"Moi, la vérité, je parle. Refonder le pacte autobiographique, Entre Symptôme et perversion ?" in Le Culte du Moi dans la littérature francophone. Mokhtar Atallah, Ed., O. P. U. - Office des Publications Universitaires : Oran (Algeria), 2010
"Ecorcher le miroir ; l'écriture, chimère du moi,dans La Vagabonde de Colette." in Phénoménologies de l'écriture de soi. Ed. M. Monseu, Presses de l'U. de Dijon, 2009
"Lol V. Stein ou comment représenter l'absence." (D')écrire, dit‐elle: Prosopographie et Ethopie. P. Ligas & A. Giaufret, Qui Edit, 2007, pp. 103-112
"NO FUTURE ! Le Désistement mélancolique de Michel Houellebecq." in Le Monde de Houellebecq. Ed. S. M. E. van Wesemael. Amsterdam, Londres: Rodopi, 2007
"L'Enclave de l'écriture: jouissance, symptôme et création." in Création au féminin. Vol. I: "Littérature". Ed.Marianne Camus. Centre Image/Texte/Langage, Editions universitaires de Dijon, Coll. "Kaléidoscopes", 2006, 15-20, http://www.u-bourgogne.fr/index/front_office/index_co.php?site_id=107&rid=640&cidori=876&cid=5351&uid=79
"L'intime livré au danger : la solution onirique de Christine Angot." in L'intimité. Ed. L. Ibrahim & S.Muller, Presses de l'Université Blaise Pascal, Clermont-Ferrand (2005), 157-175.
"M.D., cette maladie contagieuse."in Les Lectures de Marguerite Duras. Ed. A. Saemmer & S. Patrice, Presses universitaires de Lyon, 2005, 201-212
" 'Le Chasseur Zéro' ou l'origine hallucinée de l'écriture." in Nouvelles écrivaines, nouvelles voix? N. Morello & C. Rogers, Eds., Amsterdam, Londres : Rodopi, Coll. « Faux titre », 2002
"Cette Tombe est une source: le père de l'écriture." in Hélène Cixous : Croisées d'une œuvre. Mireille Calle-Gruber, éd., Paris : Galilée, 2000
"Le Père de l'écriture: Writing within the Secret Father." in Hélène Cixous : Critical Impressions. Ed. T. Kohanski, New York : Gordon & Breach, 1998
"Isosémie, métaphore et idéologie." in Sémantique, traduction et littérature. U. of Toronto Press, 1997
"Le Retour de l'Autre : la lecture de la psychanalyse."in La Transmission du savoir analytique . C. Kègle, Ed., Québec : Nuit Blanche Editeur, 1995, 137-153
"Figuration du corps lisant."in Le Discours féminin dans la littérature du Québec. San Francisco, Paris: The Mellen Group, 1993, 83-98.
Articles in journals
"Introduction," "Entre Symptôme et pharmakon: penser 'aujourd'hui' en France" ESPRIT CREATEUR (Johns Hopkins UP: Fall 2010): 1-17: http://www.espritcreateur.umn.edu/search/journal.php?jrnlID=211
"Écrire au bord du gouffre : le 'Splendid Hôtel' de Marie Redonnet." Le sujet apocalyptique. Ed. Christophe Meurée. Interferences litteraires (nouvelle série). 5. (Université catholique de Louvain, Institut de littérature: nov. 2010) : 31-42: http://sites-test.uclouvain.be/interferences/index.php?option=com_content&view=article&id=724&Itemid=1144
"THE READING BODY: Psychopathology, Magical Thinking & Literature". Littérature et psychanalyse. RELIEF. Revue électronique de littérature française. 4. 1 (Spring 2010): 102-122: http://www.revue-relief.org/index.php/relief/issue/view/27
"Le Livre de chair de l'enfant lecteur ou l'advenue au symbolique." in Subjectivité en mouvance/Subjectivity in transition, RS/SI, Revue de sémiotique/ Semiotic Inquiry. 26.1 (Montréal Québec: 2006): 73-90.
"Marie Redonnet, au nom du symbolique." in Ecriture en filigrane: Stategie testuali e editoriali del romanzo francese contemporaneo. TRANSPARENZE. Ed. Elisa Bricco (Gênes: San Marco dei Giustiniani, 2007): 193‐212 (trans. Cinzia Crozali)
"L'Enfant du Torrent ou le sujet de l'œuvre en puissance." in Anne Hébert en revue. Voix et Images (Presses Universitaires du Québec: 2006): 93‐114:
"Poulou's Family Romance and the Book." Sartre Studies International. 7.2 (Winter 2001) : 76-86 (trans. Basil Kingstone)
M. Kugler, C. Meljac, A.M. Picard, et al. "Les Echecs en lecture respectent-ils la parité? (2e partie) Filles et échecs et lecture: bilan de 15 ans d'expérience clinique." Neuropsychiatrie de l'enfance et de l'adolescence. 49 (2001): 53-71
Kugler, C. Meljac, A.M. Picard, et al., "Les Echecs en lecture respectent-ils la parité? (1e partie) Filles, garçons et lecture: vue d'ensemble sur les travaux récents." Neuropsychiatrie de l'enfance et de l'adolescence. 48 (2000): 487-98
"L'Enfant du Torrent ou le sujet de l'œuvre à venir." Rêves d'enfance. Special issue: 25th Anniversary. Voix et Images. XXV.1(1999): 102-125
"Cuisine désaffectée." in Turning Centuries. UWO Art Exhibition Catalogue (on Sheila's Butler's Work)(Oct. 99)
Meljac, Claire & Marie Kugler, en collaboration avec M. Auzanneau, L. Bailly, M. Bounes, C. Lemmel, E. Lenoble & A.-M. Picard. "Echecs en lecture: les garçons sont-ils plus exposés que les filles ?" Pratiques Psychologiques. 3 (1998): 29-37
"Le Grand Livre magique des enfants non lecteurs." Tangences. 54: Poétique du livre (Presses U. du Québec, 1997): 101-19
" C'est tout.M.D.: la Transmission de la Passion." Biffures, Revue de Psychanalyse . 1: La Passion (Québec: Nuit Blanche Editeur, 1997): 171-182
"L'Imaginaire de la théorie:Prologue." L'Imaginaire de la théorie. Texte. 17/18:(U. of Toronto Press, 1995): i-xxiv: http://chass.utoronto.ca/french/litera/Revue_Texte/int17.PDF
"Arrêt sur image: identité et altérité chez Brossard et Redonnet." Mises en scènes du regard. Alhousie French Studies. 31 (1995): 101-112
"Dans le Paysage, une figure féminine... à peine: le triptyque de Marie Redonnet." The Australian Journal of French Studies. 2.12 (1994): 228-40
"L'Autre à tu -tête: La Lettre de 'L'Immobile'." Spécial: Anne-Marie Alonzo. Voix et Images. 56: (1994): 250-67
"Le Cinéma de Duras: théâtre du corps lisant." Protee. 20. 3 (Presses U. du Québec, 1992): 81-86
"L'Indiade: Ariane's and Hélène's Conjugate Dreams." Women and the Theatre. Modern Drama. 32.1 (U. of Toronto Press: March 1989): 24–38
"Les Dés-Astres de l'Amour :Soleil Noir de Julia Kristeva." Universite de Toronto Quarterly. 57. 4 (Summer 1988): 550-54
"Caractères fonctionnels et sémantiques du subjonctif français." Journal of the Linguistic Association of the Atlantic Provinces. 5 (1983): 33-49.
Conferences & Lectures
"'La Littérature, un lieu qui n'existe pas et où on ne parle pas' (Christine Angot) ». Colloquium : Narratives of the Therapeutic Encounter. (University of Edinburgh, Dec. 6th-7th 2017). Organizer : Susan Bainbrigge.
« Le corps du texte ou comment (ne pas) tuer la mère au nom de l'œuvre. » Colloquium : L'écriture du sacré dans l'œuvre de Pierre Michon (Universités Paris-Sorbonne et Sorbonne Nouvelle - Paris 3, 19- 20 May) – Organizing scientific Committee : Carole Auroy, Marie-Ève Benoteau-Alexandre, Denis Labouret, Alain Schaffner.
« Chloé Delaume : déplacer les limites, quelles limites ? » Contemporary Women's Writing in French (CWWF) Conference 'Overstepping the Boundaries / Transgresser les limites: 21st-Century Women's Writing in French' which will be organized by the Centre for the Study of Contemporary Women's Writing (Institute of Modern Languages Research, University of London: Dec. 2016).
Research Areas
Psychoanalysis
French language
French literature
Linguistics (Semantics)
Theories of Reading and Writing, Illiteracy
French Culture
France-USA cultural translation