Kerstin Carlson
Department: History and Politics
Graduate Program(s): International Affairs

Office Hours:

Only teaches in summer semester.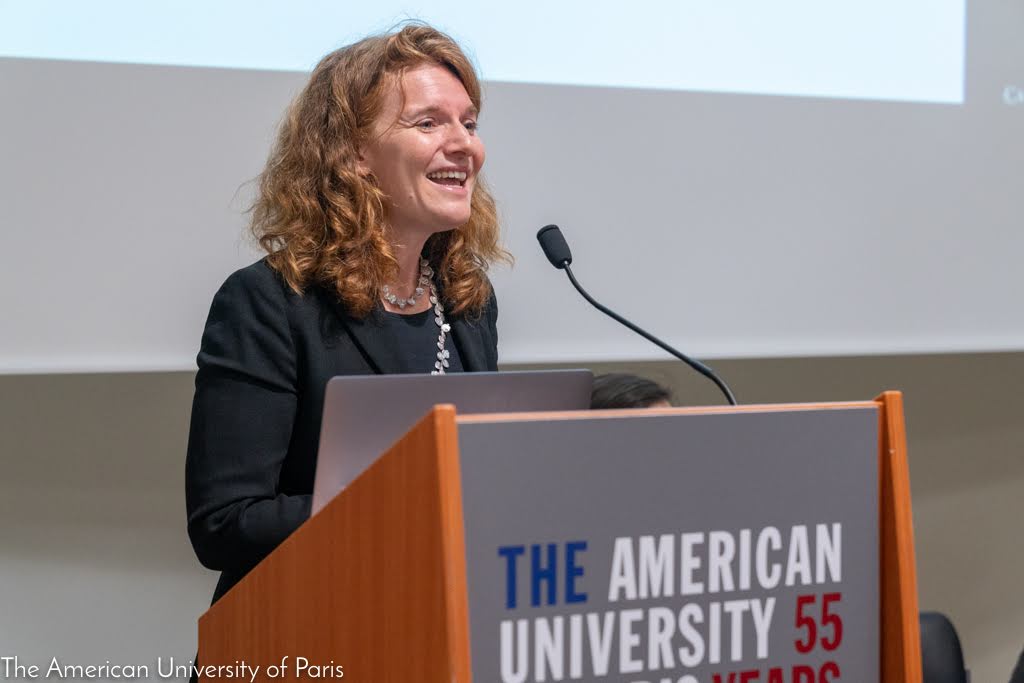 Kerstin has been teaching at The American University of Paris since 2011; today she teaches part-time, giving a summer course every year, and is otherwise Associate Professor at Roskilde University in Denmark, where her work focuses on the development of international law and legal institutions in the practice of transitional justice. She is co-director of AUP's Justice Lab. She is also affiliated with the Centre for War Studies at the University of Southern Denmark (SDU) and the empirical courts research center iCourts at University of Copenhagen. She received her BA from The Johns Hopkins University, and her JD and PhD from University of California, Berkeley. 
Kerstin is the author of the books Model(ing) Justice: Perfecting the Promise of International Criminal Law (Cambridge University Press, 2018); The Justice Laboratory: Reconceptualizing International Law in Africa  (Chatham House/Brookings Institute, 2021); and co-editor of The President on Trial: Prosecuting Hissène Habré (Oxford University Press, 2020). She also regularly writes for "The Conversation" on topics related to international criminal law and human rights.
Education/Degrees
PhD, University of California, Berkeley
JD, University of California, Berkeley
BA, with Honors, The Johns Hopkins University
Publications
"Found in Translation: The Value of Teaching Law as Culture" Drexel Law Review 2013 (forthcoming)
"Joint Criminal Enterprise: The ICTY's Contentious Addition to International Law," in ICTY: Towards a Fair Trial?, T. Kruessmann (Ed.) 2008
"An International Rule of Law: Balancing Security, Democracy, and Human Rights in an Age of Terrorism"
"Media, Development and Poverty Eradication", UNESCO
"Justice, Accountability and Social Reconstruction: An Interview Study of Bosnian Judges and Prosecutors," Berkeley Journal of International Law, Spring 2000 (coauthor)
Conferences & Lectures
"Rarely a Plea, Never a Bargain: Plea Bargains before the ICTY and Reconciliation in the Former Yugoslavia" (presented the University of Hong Kong's Centre for Comparative and Public Law, April 2013)
"Re-assessing the Tokyo War Crimes Tribunal" (presented at The Politics of Memory and World War II Conference, Department of History, University of Hong Kong, April 2013)
"Learning and working across legal systems" (presented at Drexel University Earle Mack School of Law's symposium Building Global Professionalism: Emerging Trends in International and Transnational Legal Education October 2012)
"Post Rule of Law: The Problematic Evolution of Hybrid Criminal Procedure at the ICTY" (presented at Drexel University Earle Mack School of Law October 2012)
"Implications of ICTY Plea Bargains on Reconciliation in the Former Yugoslavia" (presented at International Balkan Symposium, Suleyman Demirel Universitesi, Isparta, Turkey October 2012)
"International Sentencing" (presented at Law & Society Association annual conference, Honolulu, Hawaii June 2012)
"Argentine Atlas: ICSID Tribunals Try to Strike a Balance" (presented in absentia at Law and Society Association conference, San Francisco, May 2011)
"Reifying Equality: Distinctions between the Common and the Civil Law" (presented at l'Institut d'Etudes de Droit Public, Paris, December 2008)
"Living Under Law: Bosnian Legal Reform and the Question of Bosnian Sovereignty" (presented at Sciences Po ASN Conference, Paris, July 2008)
"Serving Justice Through International Ad Hoc Tribunals: The Case of the ICTY (presented at Law & Society Student Workshop, Montreal, June 2008)
"Using International Courts to Grow International Humanitarian Law: The Expansive Doctrine of "Joint Criminal Enterprise"" (presented at Law and Society Association conference, Berlin, July 2007)
"Taking Root: The ICTY's Impact on Collective Memory and Reconciliation in Croatia" (presented at Law and Society Association conference, Berlin, July 2007)
"Shaping Collective Identity through Individual Prosecutions: The ICTY's Impact in the Former Yugoslavia" (presented at Association for the Study of Ethnicity and Nationalism, London School of Economics, April 2007)
Presenter: Divided Societies, Dubrovnik, Croatia April 2005; April 2007
Presenter: Democracy Seminar, Konjic, Bosnia July 2005
"Hearts, Minds and Laws: Russia as Defendant Before the European Court of Human Rights" (SCR Graduate Student Retreat, UCSD, May 2004)
"Hate Speech in Denmark: Rebutting the Free Speech Principle" (presented at Law & Society Association, Pittsburgh 2003)
"Limiting Hegemony through the Elevation of the Domestic: Assessing the War Crimes Tribunal for Bosnia-Herzegovina" (presented at Law & Society Association, Vancouver 2002; Evil and Human Wickedness Conference, Prague, March 2002) 
Affiliations
Law & Society Association
American Society of International Law
Research Areas
Transitional justice, international criminal law, international public law, human rights