Roy Rosenstein
Department: Comparative Literature and English

Office Hours:

Tuesdays & Fridays 13h30, by appointment only. Tuesdays & Fridays 18h30, walk-in or by appointment. Other days, times and buildings, by appointment only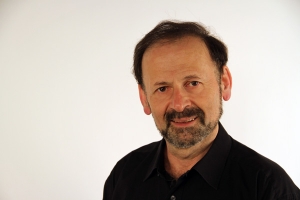 A New Yorker by birth, Professor Rosenstein also holds British and Lithuanian passports. He took his degrees on both sides of the Atlantic: Sorbonne (licence, maîtrise), Harvard (MA), Columbia (PhD). He has also taught on the East and West Coasts, in Greece, in Brazil, and at the Sorbonne. In earlier years he worked as escort interpreter for the U.S. Department of State. The French government recently named him Chevalier des arts et des lettres.

As a comparatist, his research focuses principally on the Romance languages. His publications attest wider interests, developed in the AUP classroom teaching all periods from antiquity to contemporary. He has published on the classical tradition, on medieval and Renaissance authors, but also on modern literatures, including English and American. He has written about gays, Jews, and Muslims in medieval literature; Arabic ties to Western texts; Russian and German models for Japanese fiction; foreign wars in American literature; medieval to modern women's writing from the U.S., France, Brazil, and elsewhere. For more information, see the Comp Lit blog.

Education/Degrees
PhD (with Distinction) in Comparative Literature, Columbia University
Maîtrise-ès-Lettres (Mention Bien), University of Paris IV-Sorbonne
MA (Honors), Harvard University
BA (Magna Cum Laude, Phi Beta Kappa), Columbia University
Licence-ès-Lettres (Mention Très Bien), University of Paris V-René Descartes
Certificates, Universities of Madrid, Florence, and Urbino
Publications
Books
Chansons pour un amour lointain: Jaufre Rudel. Littérature occitane "Troubadours". Gardonne, Fédérop, 2011, 88 pp. With Yves Leclair.
Etienne Durand: Poésies complètes. Textes littéraires français, # 390. Geneva: Droz, 1990, XIV, 244 pp. Préface d'Yves Bonnefoy. With Hoyt Rogers.
The Poetry of Cercamon and Jaufre Rudel. Garland Library of Medieval Literature, Vol. 5A. New York: Garland, 1983, 201 pp. Musical appendix by Hendrik van der Werf. With George Wolf.
Journal articles, book chapters and other publications
Antiquity and the classical tradition
"Plutus as Study Text in the French Renaissance," Humanismo y pervivencia del mundo clásico 4 (2003), 22-31.
"'Aristophanes le Quintessential' et 'celuy qui [le] fait renaistre,'" Etudes rabelaisiennes 74 (2001), 341-56.
"Naso [ludi] magister erat," L'Antichità nella cultura europea del Medioevo, Reineke, 1998, 105-116.
"Montaigne et Tabourot lecteurs du Cratyle," Montaigne et l'Histoire des Hellènes, Paris: Klincksieck, 1994, 114-23.
Medieval France, England, Italy, Spain, Portugal
"Jaufre Rudel au pluriel," Jaufre Rudel : Prince, amant et poète, Cahiers de Carrefour Ventadour, 2012, 103-114.
"Helen Waddell at Columbia: Maker of Medievalists." Makers of the Middle Ages: Essays in Honor of William Calin. Kalamazoo, WMU, 2011, 15-20.
"Past Perfect, Future Indefinite: Sir Thomas Malory's Morte Darthur." Temps et mémoire dans la littérature arthurienne. Bucharest, University, 2011, 401-408.
"La vida es sueño: grammaires d'absence et de présence dans la vida sostenguda de Jaufré Rudel." La voix occitane. Bordeaux: Presses Universitaires, 2009, 171-84.
"Sainte Eulalie et la belle parole." Mourir pour des idées. Besançon: Presses Universitaires de Franche-Comté, 2008, 283-97.
Short articles, Emmerson and Emmerson, Key Figures in Medieval Europe, Routledge, 2006.
"Ubi Sunt? Three Lost (and Found) Ladies in Troubadour Lyric," Medieval Constructions in Gender and Identity. Arizona, 2005, 87-102.
"Gaudairenca," Medieval Women: An Encyclopedia, Greenwood, 2004, 355-58. "Fictitious tenso: authentic genre?" L'offrande du coeur, University of Canterbury, 2004, 96-107.
Short entries, Dante Encyclopedia, New York: Taylor and Francis, 2000.
"The Voiced and the Voiceless in the Cancioneiros," La corónica 26 (1998), 65-75.
"Le Chastelain de Couci et les troubadours," Le Rayonnement des troubadours, Amsterdam: Rodopi, 1998, 27-53.
"Convivencia and Outsiderhood in Galician-Portuguese," Toleranz und Intoleranz im Mittelalter,1997, 83-92.
Advisory board member and contributor, Kibler and Zinn, Medieval France: An Encyclopedia. New York: Garland, 1995.
"Guiraudo lo Ros ou le conventionnalisme exemplaire," Les troubadours et l'Etat toulousain, CELO, 1994, 193-210.
"Malory laudator temporis acti," Temps des fins et fin des temps, Aix-en-Provence, 1993, 457-74.
"Le don du coeur, d'Yvain à la chanson de croisade." Le 'Cuer' au Moyen Age. Aix-en-Provence, 1991, 363-74.
"Latent Dialogue and Manifest Role-Playing. " Neuphilologische Mitteilungen 91 (1990), 357-68.
"Andalusian and Occitan Love-Lyric." Zeitschrift fur Romanische Philologie 106 (1990), 338-53.
"New Perspectives on Distant Love." Modern Philology 87 (1990), 225-38.
"Les années d'apprentissage du troubadour Jaufre Rudel." Annales du Midi 100 (1988), 7-15.
"Retour aux origines du troubadour Jaufre Rudel." Studia Martín de Riquer, Barcelona, Quaderns Crema, 1987, 2: 603-11.
Short articles. Dictionary of the Middle Ages, Scribners, 1982-89
Renaissance France, England, Italy, Spain, Portugal
"Browne, Borges, and Back: Phantasmagories of Imaginative Learning." Sir Thomas Browne: The World Proposed. Oxford: OUP, 2008, 296-310.
"Miquel de la Tor's Songbook in Sixteenth-Century France." Mélanges de langue et de littérature médiévales offerts à Herman Braet, Louvain: Peeters, 2006, 925-43.
"Richard the Redeless." Travels and Translations in the Sixteenth Century, London: Ashgate, 2004, 137-49
"Cervantes et le Cymbalum Mundi: loquax canum agmen." Le Cymbalum Mundi, Geneva: Droz, 2003, 513-23.
"From Polydore Vergil to Shakespeare." Polidoro Virgili e la cultura humanistica europea, Urbino, 2003,109-39.
"Pour une lecture plurielle de l'Heptameron.," Marguerite de Navarre, Folia Litteraria Romanica, 1997, 117-27.
"De l'inconstance thématique a une poétique de l'inconstance." Neophilologus 72 (1988), 180-90.
"Emblématique et poétique du feu. Le Sonnet à la Renaissance. Paris, 1988, 181-91.
"Late Renaissance Petrarchism." Papers on French Seventeenth Century Literature 27 (1987), 687-701.
"Ubicação e particularismo da língua de Camões." Arquivos do Centro Cultural Português 21 (1986), 243-62.
Modern and Contemporary Europe and Americas
"Innocents Underground? Mark Twain Rewrites Poe's 'Murders in the Rue Morgue.'" Edgar Allan Poe: The Bicentennial, 1809-2009. Baia Mare, University, 2011, 51-60.
"Mavis Gallant (1922- ) and Gabriel Baum (1935- ) on Ethnodiversity." Managing Diversity and Social Cohesion: The Canadian Experience. Brno, Masaryk University, 2010, 397-401.
"The End of Insect Imagery: From Dostoevsky to Kobo Abé via Kafka." Rpt. in Short Story Criticism 134 (2010), 138-146.
Articles on France, Paris, Gorky, McCullers, etc. The Richard Wright Encyclopedia. Westport: Greenwood, 2008.
"The End of Insect Imagery: From Dostoyevsky to Kobo Abé via Kafka." Insect Poetics. University of Minnesota, 2006, 112-28.
Articles on E.E. Cummings, Rubén Darío, Jean Nicot, Mark Twain, Richard Wright, France and the Americas, ABC-Clio, 2005.
Articles on Gide, Kafka, Koestler, and Silone, Dictionary of Literary Influences, Westport: Greenwood, 2004.
"L'Amour de loin d'Amin Maalouf et Kaija Saariaho," Quatre siècles de livret d'opéra, Amiens, 2004, 201-8.
Articles on Kay Boyle and others, Encyclopedia of American War Literature, Westport: Greenwood, 2001.
"De Rostand a Vercors par Döblin," Vercors et son oeuvre, Paris: Harmattan, 1999, 123-38.
"A Medieval Troubadour Mobilized in the French Resistance," Journal of the History of Ideas 59 (1998), 499-520.
"Andrew Lang, 1844-1912," British Bookmen, Dictionary of Literary Biography 184, 1997, 235-44.
"From The Song of Roland to the Songs of Arnaut Daniel [in Modern Brazil]," Studies in Medievalism 8 (1997), 223-40.
"Resistance Literature and the Exilic Imagination," Journal of Medieval and Early Modern Studies 27 (1997), 521-57.
"Re(dis)covering Oscar Wilde for Latin America," Rediscovering Oscar Wilde, Colin Smythe, 1994, 348-61.
"Lispector's Children's Literature," in Diane Marting, Clarice Lispector, Greenwood, 1993, 159-67.
"Nicaraguan Poet as Wandering Jew," Latin American Literary Review 35 (1990), 59-70.
Translation and Translations
Translations, The Norton Anthology of Western Literature, 2006; The Norton Anthology of World Literature, 2002; The Norton Anthology of World Masterpieces, 1999.
Translations, Distant Love, Paul Hillier and Andrew Laurence-King, Harmonia Mundi CD 907203, 2000.
Translations, Richard Coeur de Lion, Alla Francesca, Centre de Musique Medievale de Paris, Opus 111 CD, 1996.
Translation, Handbook to the Troubadours, University of California Press, 1995, 334-38.
"Translating the Trobadors," Yearbook of Comparative and General Literature 37 (1988), 69-78.
Translation of Tzvetan Todorov, "Significance and Meaning," Semiotica (1981), 113-18.
Linguistics and Language
"Occitan Language and Troubadour Song in Renaissance France," Etudes Peter T. Ricketts, Brepols, 2005, 645-55.
"Broadening the Perspectives of South African English and Afrikaans Research," Lexikos 3 (1993), 227-58.
"The Jewish Family Name File at the Quarter-Century Mark," Onoma (1993).
"Mouvance and the Editor as Scribe: Trascrittore traditore?" Romanic Review 80 (1989), 157-71.
"Jean Nicot's Thresor and Renaissance Multilingual Lexicography," Dictionaries 7 (1985), 32-56.
Teaching Writing
"To Write Well Means to Rewrite," Scissors and Tooth, Writing Beyond the Discipline, 2 (2008), 45-49.
"The Fine Points of Writing," Scissors and Tooth, The Culture of Writing, 1 (2005), 55-60.
Conferences & Lectures
Over fifty presentations on campuses from Turin to Toronto, in dozens of countries from Australia to Zimbabwe.
Affiliations
Member, Décorés des Arts et des Lettres (Chevalier, 2012)
Member, Phi Beta Kappa, Sigma Tau Delta, Phi Sigma Iota, Pi Delta Phi
Member, Laboratoire d'Edition de Textes Médiévaux, Equipe de recherche E.A. 2554, CNRS, Paris
Member, University of Versailles interdisciplinary research center on the Middle Ages and Renaissance
Member, editorial boards of La France latine and Ilha do desterro
Member, coordinating board of the American Studies Center, Siauliai University, Lithuania
Past Fellow, Whiting, Mellon, and Camargo Foundations
Recipient, NEH, ACLS, CCHA, ENS, USC, SUNY, NYU, UCLA, Fordham, and Fulbright grants
Recipient, French government grant
Recipient, Justin O'Brien Memorial Award
Recipient, The American University of Paris Distinguished Teaching Award