Renate Stauss
Department: Global Communications
Global Communications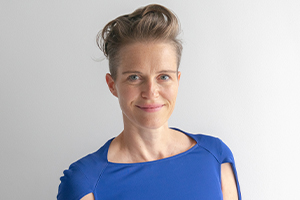 Professor Stauss has been teaching fashion theory as well as cultural and critical studies in fashion at The American University of Paris since 2013. As a lecturer in fashion she has been working at a number of universities in London and Berlin since 2003, at Central Saint Martins College of Art & Design, Goldsmiths College, Esmod, and the University of the Arts Berlin. She was part of the faculty at the Royal College of Art in London in the Department of Critical Studies for ten years.

Following her studies in Fashion Communication (BA) and Communication, Culture and Society (MA) Stauss completed her PhD on Dress as Therapy: Working with Dress on the Self in Therapeutic Settings (University of the Arts London).
The emphasis in her teaching and research lies on the sociology and politics of fashion and dress, covering, among others, the following subjects:
• dress and identity
• fashion and socialism
• globalisation of the fashion industry
• fashion as process
• the discourse of sustainability
• the sensory and emotional significance of dress

Another area of interest constitutes pedagogy of higher education, particularly fashion education and the question of how to learn and teach fashion in theory and practice.
Education/Degrees
PhD, London College of Fashion, University of the Arts London, UK
BA (Hons) Fashion Communication, Central Saint Martins College of Art & Design, London, UK
MA Communication, Culture & Society, Goldsmiths, University of London, UK
Publications
· (2015) 'Fashion Cultures Revisited – Book Review' in: Costume. Vol.49(1), London: Maney Publishing.

· (2014) 'The wetsuit is Not Fashion: A Conversation with Heidi Julavits' in: Heti, Sheila & Julavits, Heidi & Shapton, Leanne (eds.) Women in Clothes. London: Penguin, pp. 405-6.

· (2010) 'Interview with Jöelle Chariau' in: Chariau, Jöelle (ed.) Drawing Fashion: A Century of Fashion Illustration. Munich/London: Prestel, pp. 20–3.

· (2009) 'Mode' in: Peretz, Pauline (ed.) New York: Histoire, Promenades, Anthologie & Dictionnaire. Paris: Robert Laffont, pp. 1164–5.

· (2008) with Ane Lynge 'Symposium Review: The Death of Taste: Unpicking the Fashion Cycle' in: Fashion Theory. Vol.12(2), June, pp. 261–6.

· (2008) 'Die zivile Uniform als symbolische Kommunikation – Book Review' in: Costume. Number 42, London: Maney Publishing, pp. 195–6.

· (2008) 'She shines' in: Fat. Issue A, pp. 98–103.

· (2006) 'Erwin Wurm's 59 Positions' in: Fashion in Film Festival. [catalogue], London: FFF, p. 40.
Conferences & Lectures
· (2018) 'Using Foucault's Technologies of the Self to Analyse Fashion' New York University, London, 15. November 2018.

· (2018) 'Passing as Fashionable, Feminine and Sane: "Therapy of Fashion" and the Normalisation of Psychiatric Patients in 1960s US' Passing: Fashion in American Cities, The Courtauld Institute of Art, London, 5. Mai 2018.

· (2017) 'In the Land of Mirrors: Vêtothérapie in France. On Forced Forms of Self-reflection and Image-based Notions of a Fashionable Self' Revisiting the Gaze: Feminism, Fashion & the Female Body. Chelsea College of Arts, UAL, London, 28.–29. Juni 2017.

· (2009) 'La Vêtothèque: Dress Therapy in France' Fashion and Food, Annual Symposium of the Research Centre for Fashion, the Body & Material Cultures. Institute of Contemporary Arts (ICA), London, 25. Juni 2009.

· (2008/9) 'Beyond Espionage: Fashion under Socialism', Cold War Modern, Friday Late, Victoria & Albert Museum, London, 31 October 2008 & British Film Institute Southbank, NFT, 8. Januar 2009 (co-Kuration with Marketa Uhlirova).
Affiliations
• member of The International Council of Museums, UK
• member of Network Fashion Textile, Germany