Hannah Westley
Department: Communication, Media and Culture
Graduate Program(s): Global Communications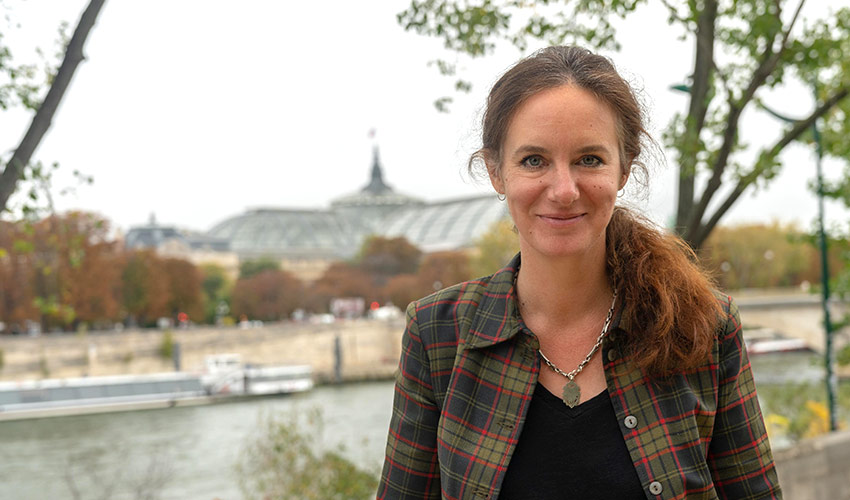 Since joining AUP in 2014. Dr Westley has taught for both the Communications, Media and Culture and Comparative Literature and English departments. As Program Coordinator for the Journalism program, she worked closely with students on student media before serving as Program Director for the Master of Arts in Global Communications between 2019 and 2022. On the recommendation of faculty, she became the Associate Dean for Graduate Programs before being appointed Interim Provost on August 1st 2023. 
Dr Westley completed her BA in Modern Languages and an MPhil in European Literature at the University of Cambridge. Her interdisciplinary PhD focused on the body in self-representation over the course of the twentieth century and examined how writers and artists, in the wake of the postmodern dissolution of the subject, sought out new, often surprising, multidimensional spaces for representing identity. 
Following a year's post-doctoral study on an Entente Cordiale Scholarship, Dr Westley worked for a decade in journalism as a writer and editor for The Times, The Mail on Sunday and The London Paper. On relocating back to Paris, she taught in the French university system before coming to AUP. Her current research follows two lines of inquiry. The first stems from her early research and focuses on representations of the body online, in particular, the omnipresent 'selfie.' Her work considers how these online identities interact with traditional means of self-representation and how this affects the way we understand subjectivity and narrative. Westley's second line of inquiry is influenced by her professional experience in the field of journalism. With a particular interest in comparative cultural perspectives on the changing nature of news production and distribution today, this research examines the nature of individualized news consumption online and asks what is the role of the journalist in an age of social media, churnalism and mobile devices. 
This coming year, Dr Westley will be working closely with leadership, faculty and staff to secure strategic initiatives and support faculty engagement in AUP's vision for the future. 
Education/Degrees
PhD. Churchill, The University of Cambridge, 2001
MPhil in European Literature. Churchill, University of Cambridge, 1998
BA Hons in Modern Languages. Churchill, University of Cambridge, 1997
Publications
Books
The Body as Medium and Metaphor, Rodopi, Amsterdam, 2008

Sheila Girling: the British Abstract Painter, Lund Humphries, London, 2008

Journal Articles, Chapters, & Essays
'Fake Mirror Selfies and the Reproduction of Generalized Cultural Distrust' in Post-truth and Trust in a Globalized Society: Popular Truth and Consequences. Ed. Jayson Harsin. Routledge (forthcoming summer 2023).

'Hard Lines, Soft Focus? A Discussion of the Craft in the Art of Charlotte Hodes,' with Charlotte Hodes. December 2021. MAI: Journal of Feminism and Visual Culture.

'Changing News Genres as a Result of Global Technological Developments,' with Natalya Rulyova. Summer 2017. Digital Journalism Vol 5(8): 986-1005

"Reading the Self in Selfies." 2017. Comparative Critical Studies Volume 13 (3): 371-390.
Now You See Me: Self-representation in the work of Charlotte Hodes. 2016. Catalogue essay on British artist Charlotte Hodes. London: University of the Arts.
Anthony Caro: Chapel of Light, Editions Ouest-France, France, 2012
Sheila Girling: Paintings, New Art Centre, Roche Court, 2007
"Visions of the Muse in Michel Leiris's L'Age d'homme" in Seeing Things: Vision, Perception and Interpretation in French Studies, eds S. Kemp and L. Saxton, Peter Lang, 2001
Shine: Reflections on 20th Century Sculpture, The Henry Moore Institute, Leeds, 2001
Conferences & Lectures
'Reconsidering craft techniques in fine art practice in the light of New Materialism,' paper presented at the Crossroads in Cultural Studies conference. Lisbon, 17-19 November 2022.

'Fake Mirror Selfies and the Reproduction of Generalized Cultural Distrust,' paper presented on the panel Contemporary Cultures of Post-Truth (Re-)Production: Beyond Fake News and Credulity as Media Effect. International Communication Association Annual Conference, Paris, France, May 30, 2022. 
'Local hype: campus journalism during Covid-19 lockdown,' paper presented at the Future of Journalism Conference: Overcoming Obstacles in Journalism. Cardiff 23-24 September 2021.
'The Trump-bump: journalism education in an age of change,' paper presented at the 5th ECREA Journalism and Communication Education TWG conference, Trial and Error III. Business as Usual? On the relationship between industry and education for media professionals in times of change. Salzburg, 17-18 May 2019
Panel discussant, 'How young people understand and engage with news' at the Academy Colloquium, The Audience Turn in Journalism, a collaborative research project funded by the Netherlands Organisation for Scientific Research and conducted by the Vrije Universiteit Amsterdam and the University of Groningen with twelve news industry partners, Amsterdam January 22-25, 2019
'How the Daily Mail Headlines function as Vectors of Newsworthiness from print, to website, to social media,' paper on news values presented at What's (the) News? Values, Viruses and Vectors of Newsworthiness conference, organized by the Brussels Institute for Journalism Studies, 13-14 December 2018
Respondent to Professor Robert Payne, 'Lossy media: Queer Encounters with Infrastructure,' in the seminar series Platform Struggles, Platform Swindles, co-hosted by AUP at Université Paris Seine Denis, 3 July 2018
'Headline Shock: The Mail Online, Symbolic Violence and Social Networking,' paper presented at Words That Kill conference, organized by the George and Irina Schaeffer Center, AUP, 28-30 May 2018
"Women's Self-Representation in the Digital Age." Conference paper given at the IMLR interdisciplinary conference at the School of Advanced Study. University of London, UK. March 2017.
Panel chair. "Travelling Texts and Translated Men: Migration and Postcolonialism across Disciplines." Organized by the Centre for Writers and Translators, AUP. October 2016.
"Narratives of the Self." Participant on panel discussion with French novelist Edouard Louis on self-representation and narrative. Organized by the Centre for Writers and Translators, AUP. September, 2016.
"News Consumption Online." Conference paper on the changing genre of news, given at the BASEES conference. Cambridge University, UK. April 2016.
"Selfies and online narratives." Conference paper given at the IMLR interdisciplinary conference at the School for Advanced Study, University of London, UK. February 2015.
Affiliations
Association for Cultural Studies
Research Areas
* Journalism 
* Digital media 
* Visual culture 
* Auto/biographical studies
* Word/image relations
* Self-representation
* New media
Awards, Fellowships and Grants
The Board of Trustees' Distinguished Teaching Award, Spring 2019